Mijn eerste week bij Bahay Aurora was enorm bijzonder. Eerlijk gezegd was ik overdonderd door de vriendelijkheid, interesse en gastvrijheid van de mensen hier. Dat meerdere mensen hier bekend zijn met Nederland is heel leuk. Overdag hoor ik vaak "goedemorgen" of "lekker eten". De eerste woordjes in Tagalog leer ik ook al.
Al op een van mijn eerste dagen mocht ik mee naar de graduation van Lovely en April. Daarna werd ik uitgenodigd voor een lunch thuis bij Ella, zij geeft de special kis les. Dit maakte veel indruk op mij en ik ben nu al dankbaar voor deze ervaringen.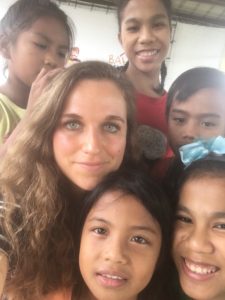 De kinderen van Bahay Aurora zijn ontzettend lief en beleefd. Iedere dag spreken de kinderen iets meer Engels tegen mij, dit kunnen ze hardstikke goed! Soms zijn ze verlegen of afwachtend maar dat ben ik ook dus daar is niets mis mee haha.
Ik geniet als ik de kinderen zie dansen, spelen en vooral lachen. Ik hoop de komende tijd samen leuke dingen te doen en zo veel mogelijk plezier te maken tijdens hun zomervakantie.
Toen ik opzoek ging naar een buitenlandse ervaring voor mijn studie had ik niet verwacht dat ik bij zo'n mooie organisatie en bijzondere familie terecht zou komen. Hartverwarmend.
Let all things be done in love.
Nina (stagiaire Social Work van Hogeschool Inholland)