In general
Bahay Aurora offers shelter to street children.   What do we mean by street children?  
These are children with problems of many different kinds but they have one thing in common: none of them can live at home, for one reason or another.
This can be a temporary (crisis) situation or indeed in some cases it can be for the long term.   Some of the children have lost both parents and cannot be cared for by other family members.   Children who have suffered neglect or physical or sexual abuse are also taken in by Bahay Aurora.   The children are placed in the care of Bahay Aurora following meetings with and the approval of the Department of Social Welfare and Development (DSWD).   Bahay Aurora offers shelter to children who live locally and on occasion to children from further afield.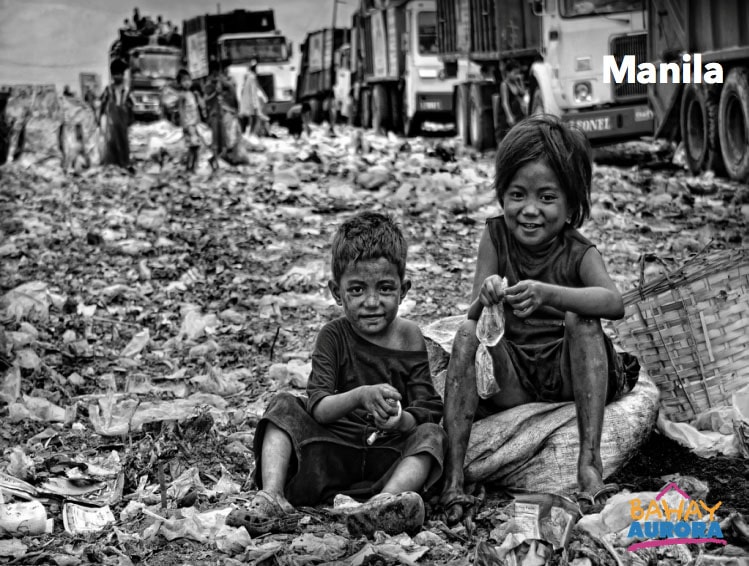 Background
Below are background stories of some of the residents of Bahay Aurora, to introduce you to some of the children welcomed by the shelter, and to give you some insight into the difficult situations they come from.
The names of the children are fictitious in the interest of privacy.
The story of B1 and B2
Staff of the DSWD were alerted by inhabitants of the rubbish dump.   On investigation they found two small children, one of a year old, the other just a few weeks, surviving in a dirty cardboard box.The staff of the DSWD brought the children to our facility in Baras.   The children were both severely malnourished and sick.
They had no names and were therefore referred to as Baby 1 and Baby 2, or simply B1 and B2.   The parents were nowhere to be found and the children were later given names by the staff of the children's home.After a long period of convalescence, both brothers have made a good recovery.
They are happy children and are developing well.
The story of Linda, Ronald and Joe-boy
Linda (10), Ronald (5) and Joe-boy (2) lived together with their father and mother in a small village in the Laguna area.   The father worked as an agricultural labourer and
the mother stayed home to look after the children.   The mother became sick and following a lengthy illness she passed away.   As a result of losing his wife the father became overwrought, lonely and depressed.   Finally one evening in the presence of his children he hung himself.   An aunt of the children took over the responsibility for their welfare.   Her husband, however, mistreated the children and young Linda was sexually abused.   The situation became too much for the aunt and out of fear for
Linda's situation she made the decision to place the children in the care of Bahay Aurora.   By doing so she saved them from a life as street children.
Irene's story
Irene was an only child living with her parents. Sometime after the father's death the mother began a new relationship and eventually lived together with her new partner. After some time it became clear that he was an alcoholic and addicted to gambling. Irene was being sexually abused by him, but at first her mother did not believe her.   When the mother finally realised the seriousness of the situation she stopped working in order to be home to protect her daughter. As a result the money coming into the household dried up and there was not enough food to feed the family. The mother became malnourished and could no longer breastfeed her new baby. One day the baby suckled blood instead of milk and, on seeing this, Irene panicked and ran away.   She survived six months of living on the streets before being found by staff of the DSWD. Irene was severely malnourished. On her arrival at the children's home she was traumatised, wet her bed and suffered from nightmares. Two weeks after her arrival at the home she received a message that her baby sister had passed away. Irene has not heard from her mother since then.
Irene has been living at the centre for six years and given her history has made good progress.
Paul's story
Paul's father worked as a labourer on a small farm.   His mother passed away at a relatively early age.   By the time Paul was in first class of primary school his father had also become ill and later passed away. His father's brother took responsibility for Paul.   Within a few years it was clear that this man could not continue to care for Paul due to problems within his own family. The DSWD located in Morong referred Paul to the Bahay Aurora children's home. Initially Paul was a very withdrawn young resident and spoke only when spoken to. Thanks to the care he has received he has grown into a spontaneous youth with shining eyes. He has really settled down well in Bahay Aurora and appears to feel completely at home here.