In 2016 more than 800.000 children were vaccinated for dengue, a potential deadly mosquito bite.
Usually a vaccine is given to a human to prepare the body to fight the disease without exposing it to the disease. This vaccine will help human to prevent disease from occurring and this is called passive immunity. While Active immunity the resistance to the disease the immune system will develop antibodies. Our body can develop antibodies to combat bacteria and viruses through our lymphocytes ( white blood cells). With the alarming rate of Dengue cases the DOH under the leadership of Janett Garin had a deal with the French Sanofi Pasteur who created the Dengvaxia to eradicated the alarming number of cases of Dengue cases.
Supposed to be this will help lessen or this will be the solution for Dengue virus, unluckily according to the Sanofi Pasteur they admit that this must be given to those who had previously infected with Dengue virus, The DOH had their program but they give it even to those who had not previously had a dengue infection. According to the company those who had not exposed to the disease might suffer severe dengue cases. This vaccine will worsen or may increase the fatality of those who were vaccinated. SEC. Duque recall all the Dengvaxia vaccine. They made an effort that those who were vaccinated must watch for the sign and symptoms of Dengue to monitor those who were vaccinated.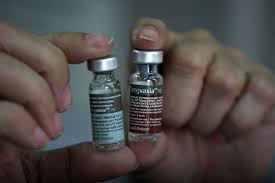 The Dengvaxia will double the effect of dengue virus. According to some report those who had not infected by dengue will have severe dengue. This vaccine will increase the number of fatality. So, this must not be given it would not help at all.
The DOH tell the people to bring their children to the hospital those who were vaccinated, they had these express lanes to those were involve. Severe bleeding is one of the main reason why dengue is very fatal, if the platelet goes down they must monitor it, if it needs blood transfusion. The only supportive medication can be given to those who suffers from dengue. The IV intravenous fluid the antipyretics for fever. It also depends on how the child's resistance to combat the disease.
In my own opinion there must be held responsible for these. The Secretary of the DOH who agreed to introduce it. Most especially they spend millions for purchasing this vaccine. 17 cases according to the independent doctors upon their autopsies there is one pattern showing that there is hemorrhage in the head or in the other parts of the body. I wish next time they make sure that a vaccine must be proven to be safe and undergoes a lot of series of testing before they introduce it to the people. Many lives will be saved if it is done in the right way and it is done with love.