She is Nina Bleeker, 24 years old from Harlem Netherlands. She has a twin sister named Marit and has older brother named Yannick. She is studying Social work, a 4-year course. She is now third year in her course.
Before she went here in Bahay Aurora, she said that she makes a research for her experience in other country then she found Bahay Aurora in the website. Bahay Aurora was found in the Philippines. Nina was excited to come in the Philippines especially in Bahay Aurora. Actually, this is her first time to visit in Asia.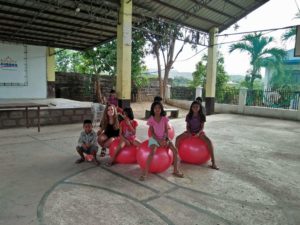 When she arrived, she felt overwhelmed because of the difference between the culture and the time that she used to it. According to her she likes people here in the Philippines because the people are friendly, kind and make her feel welcome.
About the food, she tried and taste chicken feet, dried fish, chocolate rice, adobo, liver and blood soup. We are happy that she like it and she experience Filipino food.
Nina is also the one who was making summer activity schedule of Bahay Aurora that we are following right now. She also raised money for summer camp in Bahay Aurora.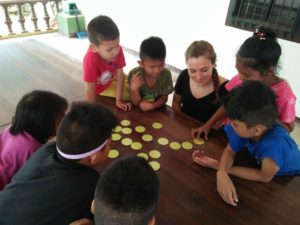 She likes kids smiling, playing with them and giving them more attention when they are doing activities. She is also flexible to any activity in Bahay Aurora.  She is also joining and helping Ate Ella's class (sped class) every afternoon.
According to her she is planning to visit Palawan (one of the most beautiful island here in the Philippines). And according to her after her internship she wants to finish her study and she is also planning to come back again in Bahay Aurora. She wants to keep in touch and continue her support in Bahay Aurora and hopefully she will come again with her twin sister. We are blessed to have you Nina! God bless! "Let all things be done in love".