During calamities like strong typhoons, Philippines is usually one of the most affected countries by  deadly floods and landslides. The effect of the climate change over the past years have seen because of its extreme heat that lead to stronger and frequent storms.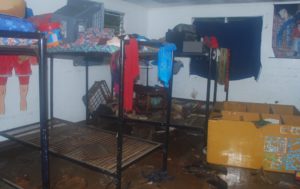 Looking back in September year 2009 from the Typhoon Ondoy, the storm hit Central Luzon where Rizal is located. The waters rose so fast that people living in low lying areas were caught unaware and had to stay in the roofs to avoid being swept away. Bahay Aurora had 70.000 euro worth of damage at the time.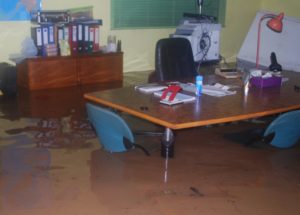 Bahay Aurora got heavily affected by this typhoon. Luckily we managed to bring the kids to the second floor so no child got hurt. Walls   have been destroyed by heavy floods and it left damages all around  the compound and inside the buildings. Walls were replaced and furnished by strong blocks and the Bougainvillea and other trees are planted to make the wall extra strong. For safety reasons the sliding floodgate was built to protect the compound from the overflow of water from the river. It was placed to cover the entrance gate to resist the flood. Then the canal was constructed as the drainage and to navigate the river flows   or water floods through to the rice field. With continuous rainfalls the water levels gets up higher easily. It is very important to have canals because it help to lessen the water floods that could cause Dengue and Leptospirosis which is very harmful specially to the residents of Bahay Aurora, the children. One of our dear volunteers Tio Ton died one week after the typhoon due to Leptospirosis. He had only a very small wound but it got infected and all the hospital were overcrowded, thousands have died.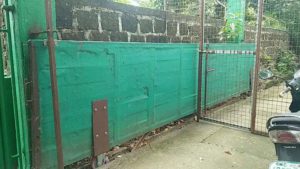 After this terrible experience in 2009 ,we regularly include to our activities the practice and awareness exercises  for our children about the natural disasters and calamities.